Higher Education has its Price as College Graduates Receive Diploma, Lose Health Coverage











Fort Collins, CO (PRWEB) April 19, 2006
A recent survey by Assurant Health, the nation's leading provider of temporary health insurance, reveals that nearly 40 percent of respondents mistakenly believe that adult children (ages 21-24) living at home are still covered under their parents' health insurance plans. Unfortunately this is often not the case. While the age a child dropped from a parent's policy varies, typically most children lose coverage under their parents' plan at the end of the month they graduate and cease to be full-time students. One thing is certain — many college graduates, and their parents, are not aware that they may now be at serious financial risk.
The survey also reveals that half (50 percent) of Americans believe that health insurance is only affordable through an employer, which could place college graduates and their parents at risk by prompting them to go without health insurance at all, even for a short time. According to The National Center for Education Statistics, over 1.4 million students will graduate with a bachelor's degree in 2006, and while the job outlook is brightening, there is no guarantee that graduates will find a job right away. In fact, the unemployment rate among this age group (20-24 year-olds) is considerably higher than the national unemployment rate of 5.6 percent.
All this adds up to the potential for a lot of uninsured Americans, especially among this young adult group. Although nearly half of Americans (44 percent) believe it is worse to go without health insurance than to not have a job, according to the most recent data available from the U.S. Census Bureau, over 8 million young adults (ages 18-24) went without health insurance in 2002, and overall this age group is the most likely to be without health insurance.
"Parents and young adults need to realize that going without health insurance is a risky option," said Wiley Long, President of HSA for America, an online health insurance agency. "We know that more than half of Americans have gone without health insurance at one point or another. It is critical that we educate people about the affordable alternatives like short term medical insurance plans in order to combat the growing healthcare concerns facing our country."
What is perhaps most surprising is that a large number of Americans are either unaware of or don't believe they can purchase an affordable short term health insurance policy. Because of this, some parents will opt to extend a recent graduate's coverage under their existing policy through COBRA – which can lead to unnecessarily high costs. However, there are a range of affordable short term medical policies out there, particularly for younger age groups, and HSA for America makes it easy to locate the right policy by offering convenient online access to quotes and almost immediate coverage.
But recent college graduates are not the only group that can benefit from short term medical insurance. With companies increasingly outsourcing jobs and authorizing layoffs, losing health insurance can happen at any time. Additionally, internships and co-ops are becoming the preferred path to permanent full-time employment (Collegiate Employment Research Institute at Michigan State University), and it is common for employers not to offer health plans with these types of positions.
Short term health plans are an ideal alternative for people in a variety of situations, including:
    – Recent college graduates
    – People between jobs
    – Employees waiting for employer group coverage
    – Temporary or seasonal employees
    – Dependents no longer covered under parents' plan
    – On-strike, laid-off or terminated employees
Choosing a plan and getting covered has never been easier. Unlike HMO or PPO plans, which generally have a very limited provider network to choose from, short term medical plans allow customers to use the doctors and hospitals of their choice, can be purchased online, and offer policyholders peace-of-mind because they can take effect almost immediately.
Coverage can be purchased for as few as 30 days or as many as 365 days (varies by state).
    Sample Short Term Medical Plan Costs*
    Person Characteristics – 30 Days Coverage – Deductible
    21-year-old             -            $ 82.62             -     $ 500
    28-year-old             -            $ 63.18             -     $ 1,000
    30-year-old             -            $ 48.60             -     $ 2,500

Does not include one-time $ 20 application fee.
For more information, free quotes or to apply online visit HSA for America's Short Term Health Insurance page at http://www.health–savings–accounts.com/temp.htm
About HSA for America:
HSA for America is an online health insurance broker specializing in Health Savings Accounts. Our Mission is to find individuals and families the best coverage available to meet their needs at the lowest price the market offers, while at the same time making the process easy. You can visit us online at http://www.health–savings–accounts.com/.
# # #
©Copyright 1997-
, Vocus PRW Holdings, LLC.
Vocus, PRWeb, and Publicity Wire are trademarks or registered trademarks of Vocus, Inc. or Vocus PRW Holdings, LLC.
If you want to be back to normal as soon as possible after an injury, there are Denver orthopedic surgeons that can give you the most effective treatment. They are among the best practitioners in the country when it comes to orthopedic procedures and sports medicine, and they make use of the most up to date techniques in the rehabilitation of injuries.
However, any medical treatment involves money; and for those who sustained injuries, the hospital bills could amount to a small fortune. The normal method of having something to cover for an illness or injury is to get insurance. Orthopedic surgeons know this too, which is why they work with insurance companies to give you the best possible care, without you worrying about payments.
Denver orthopedic surgeons are not contracted under every insurance plan out there; but as courtesy, they will still put your bills under your insurance provider. There is a 60-day period for the insurance company to process the claim, from the time the bills were made. If they do not process it, the doctors will contact you so that you can pay your account with them.
The surgeons, though, are required to bill you for co-pays and deductibles. This is mandated by federal law and the insurance companies they have contracts with also require that such payments be collected from patients. If your insurance plan also is neccessary you to have pre-authorizations or referrals, it is your duty to comply with the conditions dictated by your insurance company.
Most of the time, there is an Explanation of Benefits or EOB given to patients by insurance companies. This document summarizes the billing. It will tell you what was paid and the things that may or may not be billed to you under the insurance. The agreement used on the EOB may not be clear to you, but the Denver orthopedic surgeons has a number you can call to clear up issues on your insurance billings.
Insurance Shopping Service Helps the Uninsured Find Coverage












Denver (PRWEB) December 5, 2005
According to a recent study conducted by the U.S. Census Bureau, over 45 million Americans lack health insurance, leaving 16% of the population at significant medical and financial risk.
Growing insurance costs are a major issue facing the uninsured. According to the Kaiser Family Foundation, the average annual premium of health insurance jumped 9.2% in 2005, costing a family of four an average of $ 10,880—more than a worker earning minimum wage makes in a year.
As a result of rising health insurance costs, more and more employers are dropping the benefit all together, with the Kaiser Foundation reporting that the number of companies offering health benefits has dropped to 60%, down from 69% since 2000.
InsureMe, a leading consumer-agent link for finding insurance online, is taking strides to help those without insurance find affordable coverage.
The consumer-focused company allows shoppers to compare up to five health insurance quotes at no cost, giving the consumer the freedom to choose the policy that best fits their health needs and their budgets.
"At InsureMe, we take pride in helping consumers find the right health insurance, whether the need is for individual coverage or for a family," says InsureMe President, Tim McTavish.
"In minutes, consumers can submit their quote request on our Web site or contact our customer relations managers to get help in finding the coverage they need."
With health insurance costs expected to rise again in 2006, the InsureMe company may be the answer for millions of Americans without coverage.
About InsureMe
InsureMe, an Englewood, Colorado-based company, links agents nationwide with consumers shopping for insurance. Specializing in auto, home, life, long-term care and health insurance quotes, the InsureMe network provides thousands of agents with health insurance leads every year. For more information, visit http://www.InsureMe.com.
###
©Copyright 1997-
, Vocus PRW Holdings, LLC.
Vocus, PRWeb, and Publicity Wire are trademarks or registered trademarks of Vocus, Inc. or Vocus PRW Holdings, LLC.
More Insurance Denver Press Releases
BC-CA–California Coverage Preview, CA
The Associated Press The Associated Press Here are the stories and photos planned by AP's bureaus in California today and during the upcoming week. The California News Digest will move at 1 p.m. and an Add at 4 p.m. All times are Pacific. Editors will be advised if a story listed here will not move. AP stories, along with the photos that accompany them, can also be obtained from [[[SHIFTOUT …
Read more on The San Francisco Examiner


Council eyes worker`s comp broker change
The Fort Morgan City Council on Tuesday night heard presentations from representatives of two worker`s compensation insurance brokerages at the work session.
Read more on The Fort Morgan Times


Colo. lawmakers near bumpy finish to session
IVAN MORENO Associated Press DENVER A legislative term in Colorado that started with promises of bipartisan camaraderie neared a bumpy end Wednesday with Democrats and Republicans bickering over nearly every matter they considered. The Republican House and Democratic Senate managed to work together to cut state spending to balance an $ 18 billion budget in the face of declining tax receipts …
Read more on Washington Examiner


Early Rockies Snowstorm Signals Launch of Ski Season and Delivers Reminder to Add Travel Insured Sports Coverage to Your Trips













East Hartford, CT (PRWEB) November 4, 2009
An early snowstorm in the final days of October in the Colorado Front Range and Wyoming was Mother Nature's approval for keeping the November start of the western ski season on schedule, if not accelerated. Colorado Ski Country USA announced that all 22 of its member resorts are on schedule to be open by Thanksgiving. Areas including Arapahoe Basin, Loveland and Copper Mountain are already open!
The storm is a reminder to skiers heading to the slopes to add travel insurance to their ski vacation bookings. Travel Insured International (http://www.travelinsured.com) has a menu of inclusive and optional coverage, including a Sports Coverage option, in four types of Worldwide Trip Protector plans to provide skiers with the most flexible travel insurance choices available. The products are designed to protect skiers' prepaid travel money, including ski package components, and skiers' risk of accident-related emergency medical expenses when they take to the slopes this winter. Some skiing activities not normally covered are protected with the Sports Coverage option.
Choices of plans include: Worldwide Trip Protector Gold for the most comprehensive benefits and highest benefit limits; Worldwide Trip Protector for comprehensive coverage with lesser benefit limits, but also lower premiums than WTP Gold; Worldwide Trip Protector Lite for essential, family-friendly coverage at the most affordable premiums, and Worldwide Trip Protector Lite Expanded for a cost-saving plan with value-added coverage, including School Day Extension, Missed Connection, and the ability to cover a Pre-Existing Medical Condition.
More Protection with Sports Coverage Option
Travel Insured's Sports Coverage option, available in every plan in the Worldwide Trip Protector line, provides coverage for pre-paid, non-refundable ski passes, ski lessons and equipment rentals that may be lost if the skier is forced to cancel the trip for a covered reason. It also can reimburse costs for ski equipment rentals needed if a skier's own equipment is delayed or misdirected on the way to the ski destination by a common carrier. Skiers planning to join a ski race or heli-ski tour add the Sports Coverage option to obtain Emergency Medical Expense coverage for these and many other bodily-contact sports activities not normally covered by a travel insurance plan.
Flying in and out of ski country during winter season has other potential risks covered by Travel Insured's Worldwide Trip Protector plans. Trip Delay coverage in Worldwide Trip Protector or Trip Protector Gold comprehensive plans is up to $ 200 per day for unplanned travel expenses caused by a common carrier delay of 6 hours or more hours, including for inclement weather. Trip Delay in Worldwide Trip Protector Lite or Lite Expanded covers the same expenses of up to $ 100 per day when the common carrier delay is 12 hours or more. Trip Delay coverage could even apply if a car accident, whether or not the insured travelers are involved, prevents their timely departure, or if their trip delay is caused by lost or stolen travel documents or money, a natural disaster, or an unannounced strike.
Strong Emergency Medical Expense
Each of the four Worldwide Trip Protector plans includes strong primary Emergency Medical Expense coverage with a range of benefit limits of between $ 10,000 and $ 50,000, depending on the specific plan selected, with a Medical Upgrade option available in all but the Worldwide Trip Protector Gold plan. Additionally, each plan includes Emergency Medical Evacuation, and the Worldwide Trip Protector and Trip Protector Gold plans includes Accidental Death & Dismemberment coverage for accidents that may occur during the ski trip.
Every Travel Insured International plan comes with inclusive Worldwide Emergency Travel Assistance, available 24/7 from anywhere, as well as available insurance guidance from courteous, professional customer service and claims people whose only business is travel insurance.
Skiers can avoid the slippery slope of traveling without insurance this winter. They can protect each ski trip with a plan from the Worldwide Trip Protector family of products from Travel Insured.
About Travel Insured International

Travel Insured delivers comprehensive travel protection benefits ranging from trip cancellation and trip interruption to emergency assistance and Medevac insurance, travel accident and sickness medical expense, accidental death and dismemberment, missed connection and baggage delay or loss.
The company's travel insurance plans include its comprehensive Worldwide Trip Protector, the most popular travel protection plan and Worldwide Trip Protector Gold, an enhanced travel insurance plan designed to protect luxury vacations and business trips. Travel Insured also offers two travel insurance plans designed to provide basic yet flexible protection for families and budget conscious travelers, its Worldwide Trip Protector Lite insurance plan and Worldwide Trip Protector Lite Expanded insurance plan. Finally they offer an Airline Ticket Protector plan as well as a complete offering of Group Travel Insurance plans including Student Group insurance plans.
Visit Travel Insured's web site at http://www.travelinsured.com or speak to a friendly, knowledgeable Travel Insured customer care professional at 1-800-243-3174.
Travel Insured International, based in East Hartford, Connecticut, was founded in 1993 by the foresight of insurance industry executive Peter Gehris when he acquired the travel protection division of the Travelers Insurance Company. Coverage is underwritten by Arch Insurance Company (a Missouri corporation, NAIC #11150) with executive offices located in Jersey City, NJ. Not all insurance products or coverage is available in all jurisdictions. Coverage is subject to actual policy language.
###
©Copyright 1997-2010, Vocus PRW Holdings, LLC.
Vocus, PRWeb and Publicity Wire are trademarks or registered trademarks of Vocus, Inc. or Vocus PRW Holdings, LLC.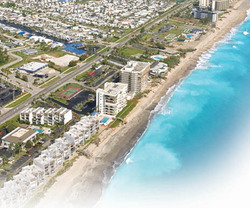 Phoenix, AZ (PRWEB) February 5, 2008
MiniCo, Inc. has signed an agreement with Boulder, Colo.-based International Catastrophe Insurance Managers, LLC (ICAT), to begin offering property and wind coverage for coastal locations in Florida, Georgia, Alabama, North Carolina, South Carolina, Louisiana, Delaware, New Hampshire and Rhode Island. Additional filings are in progress for many other states with approvals expected in coming weeks. MiniCo currently has capacity available in designated areas within these states.
Commenting on the partnership, Mike Schofield, President, MiniCo Insurance, said, "We are excited to be able to offer an insurance solution for self-storage properties in high-risk coastal locations." He continued, "Working with ICAT will enable MiniCo to offer independent agents a one-stop resource for writing single locations as well as multi-location policies that include properties in high-risk coastal areas."
ICAT's available policy coverages include property, wind, and business interruption. MiniCo can also provide a general liability quote with limits for customers goods legal liability and sale and disposal liability coverage.
MiniCo provides the leading specialty insurance coverage for self-storage operations nationwide. For more information, contact MiniCo's Customer Care department at 800-447-8383 or MiniCo Customer Care.
Since 1974, Phoenix-based MiniCo, Inc. has been a self-storage leader providing superior specialty insurance programs, informative publications and valuable products and services created expressly for the self-storage industry.
###
Insurance Sales Post Biggest Advance in 16 Quarters on Auto, Home Coverage
U.S. property and casualty insurance sales gained the most in 16 quarters on a recovery of personal auto and home coverage.
Read more on Bloomberg


Eastday-Stock market sags on car-sale, credit worries
SAIC Motor stock fell to the lowest level in four months after Beijing announced measures to restrict the number of new vehicles.
Read more on Eastday.com


Santa Rosa, CA (PRWEB) June 22, 2010
KaiserQuotes.com, a licensed insurance agency offering Kaiser Permanente quotes and enrollment assistance, announces that they recently expanded their coverage to include Colorado health insurance policies.
The new policies will include Colorado individual health insurance and Colorado group health insurance plans. Customers will be able to choose from Copayment Plans, Deductible Plans and Deductible Plans with HSA.
"We are very excited to be entering the Colorado insurance market," says John Hansen, owner of KaiserQuotes.com. "We know that Colorado residents will be pleased with our quality insurance plans and low rates."
As with the company's other insurance offerings, the Colorado health coverage will include an emphasis on preventive medicine, nutrition and exercise to assist patients with their health and overall well-being. This includes discounts on health club memberships, massage therapy, chiropractic care and other services on select plans.
Kaiser Permanente is the leading HMO provider in the United States and provides affordable, quality coverage on individual health insurance plans as well as small business and group health plans. The company currently has more than 14,000 physicians in their network and approximately 170,000 employees. Kaiser Permanente's Colorado facilities can be found in Denver, Boulder and Colorado Springs.
About KaiserQuotes.com

KaiserQuotes.com is a licensed insurance agency offering Kaiser Permanente health insurance information for California, Georgia and Colorado plans. They provide free instant quotes and enrolment assistance all in one convenient place. To learn more about KaiserQuotes.com or receive a free quote, please visit the company's website at http://kaiserquotes.com/.
###
Auto Insurance of Las Vegas is a local auto insurance provider in Las Vegas that offers reasonably priced Las Vegas Car insurance coverage to the residents of Las Vegas and surrounding areas. Its agents are fully qualified and assist clients in determining the optimum auto insurance and the most reasonable Las Vegas Auto Insurance quote and premium for the Las Vegas Auto insurance. Theirlocal professionals deeply understand the needs of the locals and make available accurate auto insurance for them. This Las Vegas Car Insurance company offers a variety of insurance possibilities to its clients.
Being locals gives Auto Insurance of Las Vegas the benefit of knowing and understanding the market and the issues in a better manner. Therefore, they can advise clients on the optimum Las Vegas Auto Insurance, ensuring there is just enough auto insurance coverage. Their friendly and knowledgeable auto insurance agents offer reasonable and affordable Las Vegas Auto Insurance Quotes for insurances such as automobile insurance, motorcycle insurance, truck insurance, recreational vehicle insurance and other Las Vegas Car Insurances.
Quotesby the agentsof Auto Insurance of Las Vegas are only determined after a thorough analysis of the type of Las Vegas Auto Insurance required and the precise level of coverage needed. They make sure that the minimum state standards are adhered to for every Auto Insurance Quote Las Vegas. In case there is a Las Vegas Car insurance coverage that goes beyond the state standards, their thoroughly trained and qualified professionals duly examine the policies concerned and only approve the auto insurance if there is an urgent need or utmost necessity to increase the coverage.
They provide the most competitive and affordable Las Vegas Car Insurance coverage to their customers. The background resources are properly examined and only the best Las Vegas Auto Insurance Quote is offered to the clients. Since they consider clients as their foremost priority and are absolutely customer focused.
They recommend several strategies to the clients for selecting the optimum Las Vegas Car insurance and coverage. Such strategies have helped a lot of their clients achieve best quotes that have been increasingly beneficial for the clients. They have years of hands on experience in the field of Las Vegas Auto Insurance coverage and policies. Their clients depend on them for reliable and profitable Las Vegas Auto Insurance Quotes.
Auto Insurance of Las Vegas believes in providing result oriented solutions for its clients in order to establish long term business relationships that spell enhanced business for them and better Las Vegas Auto Insurance coverage, Las Vegas Car Insurance coverage and more affordable Las Vegas Auto Insurance Quotes for the clients.
Related Auto Insurance Co Articles